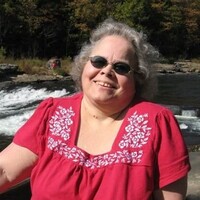 MARY ANN DYER
Born: December 21st, 1947
Died: July 18th, 2020
Purchase Products for Deceased
Obituary
Mary Ann Dyer, 72, of McKeesport, died peacefully in her sleep on Saturday, July 18, 2020 at the home of her daughter. She was born December 21, 1947 in Pangburn Hollow, a daughter of the late Lewis and Mary Opfar Thayer.
In her younger years, Mary Ann was a waitress at "the hot dog stand" in Elizabeth. George Dyer was a regular patron enjoying his daily cup of coffee. After they met, it was history and the two of them later married.
For many years, Mary Ann and her husband, George owned and operated the Bait Box in Elizabeth. Mary Ann was a lifetime member of the East Monongahela Sportsmen's Club, where she shot pistols competitively, She also was the organizer of their banquets, cooked for the club for their shoots, kept score and called the line during shoots.
She is survived by two daughters and two sons, Barbara Dyer of Liberty Boro, twins, George (Sue) Dyer of Liberty Boro, Susan (Bryian) Boger of Forney, Texas and Steven Dyer of Versailles Borough; three grandchildren, Sarah Maher, George Dyer and Matthew Boger; sister, Irene Kress of Midlothian, Virginia; numerous nieces and nephews.
In addition to her parents, she was preceded in death by her husband, George Dyer, Jr. who died June 30, 2005; six brothers, David Opfar, Lou, Norm, Harold "Butch", Carl and Chuck Thayer; and a sister, Leone Tignanelli.
Friends will be received on Wednesday, July 22, 2020 from 2-4 and 6-8 PM in the Frye Funeral Home Inc., 427 W. Main Street, Monongahela where services will be held on Thursday, July 23, 2020 at 11:00 AM with the Deacon Ronald Walker officiating. Interment will follow in the Round Hill Cemetery, Elizabeth.
Memorial contributions may be made to the East Monongahela Sportsmen's Club, 5717 Ella Hollow Road, Elizabeth, PA 15037.